Authors: Ben Abram, Jayson Eljawhary
You had a great baseball season.…now what?
It's the end of the baseball season. The playoffs are over, your team did well, and you are happy with how you performed this year. All the work you put in last year paid off and it feels good. So, what happens next? Simple – it's time to start your preparation for next season by working hard and smart this off-season.
A common mistake young players make is that when things are going well, they slack on their training schedules and lose mental focus. This is especially true for Canadian baseball, as our relatively short outdoor season means there is a long break between the end of one season and the start of another. All too often, young players end their season on a high note, only to get back on the field the following year and find out that the competition they were beating last season worked their tails off in the off-season and are now a step ahead of them. This often leads to frustration and further struggles on the field (physically) and off the field (mentally). What can young players do to make sure they continue a strong year into a stronger off-season?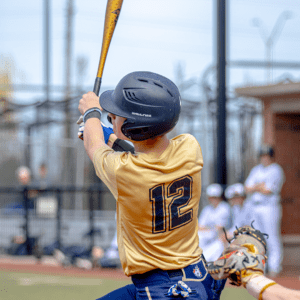 1. Mental Focus
After a great season, it is very easy to get complacent. It is important for a player to remember what they do well – there is nothing wrong with being proud of the work you have already put in and what you have accomplished. However, sitting on your couch in October thinking about all your past success isn't going to do anything to help you next year, which is why young athletes need to use those memories to continue to drive themselves forward.
Remember blazing a fastball by the hitter in an important situation? Think about all the work you put in to find that extra velocity. Remember your clutch hit in the playoffs? Think about the extra tee work you did last offseason, and how it helped your swing. Staying mentally focused means connecting our successes to the work we put in already – when a player does that, they will be motivated to continue with their offseason regime.
A player who always believes (and behaves like) there is something for them to improve on will usually end up a step ahead of their teammates and competition. The reality is that there is ALWAYS something to improve on, no matter who or how good you are. Remember, it's not about being talented at 10U or 12U – think about where you want to be when you are playing 16U or 18U! Staying hungry mentally will always aid in your development as a player.
2. Physical Drive
It is okay to take a bit of time off at the end of your season, as sometimes your mind and body need some time to rest and heal. But even after that, sometimes that extra set of reps just doesn't seem worth it, especially when you are already on top. A common mistake players make is that when they feel they are already successful, they just stick to their standard exercise routine and pass on those opportunities for extra time in the cage. Setting new physical goals for yourself is crucial, and these goals must be set with the understanding of what your competition is going to look like next year, not what it was last summer.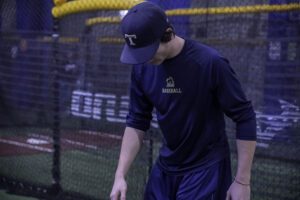 Think about it – everyone is going to grow physically sooner or later. Playing dimensions for young athletes in Ontario starting at 8U change every two years (at minimum) until arriving at full-sized playing surfaces at 14U. What may have worked well for you last season at a different level or age group may no longer cut it, which is why we must adapt by continuing to push ourselves in the gym, batting cage, field, and bullpen. Setting new goals, tracking your progress in the gym, and at the field/facility over the winter can keep your motivation high and help you maintain that physical drive you'll need to continue your success.
3. Lifestyle Goals
It can be hard to get out of the house in the winter, and even harder when you feel comfortable with your game. Sticking with the habits that made you successful is easier said than done, especially when it feels like you have already reached your baseball goals. School is also back in session, and suddenly it becomes less convenient to make time to work-out and eat well.
One way to stay engaged and committed to getting better in the off-season could be finding other athletes to work out with, or scheduling a regular time with your coach can help you stay on track. Creating a consistent routine to make sure that you can complete schoolwork, attend a part-time job (for high school athletes), maintain a consistent effort at the gym, and a reasonably healthy diet is extremely helpful and will keep you organized. For players at the high school level looking to play competitively at college, this is your average Tuesday if you are taking it seriously! Your habits off the field mean just as much as your habits on the field, if not more. Just like the game of baseball, creating good habits and routines in life will eventually lead to good results.
In conclusion, remember that who you are off the field says a lot about who you are on the field. In Ontario, best case scenarios usually mean that you are on the field for less than half of the calendar year, meaning that your season is influenced by how well you prepare during offseason training. If you are genuinely interested in continuing to grow in the game of baseball and life, operating with the mentality that there is always something to improve on will pay dividends and keep you motivated to continue growing.